Click on color bars to change themes
Click on color bars to change themes

We're codesign
We are a group of people crazy about the web, we design and develop beautiful, creative and user-centered websites. Ohh, almost forgot, we also do graphics, such as logos, brochures, ads, catalogues and so much more!!
We're a young team with shared ideals: to put love in our work, to take risks, and to be part of a studio where everyone has a voice. We are artists, writers, designers, animators, editors, cinematographers, and musicians.
"Everything is designed. Few things are designed well..." - Brian Reed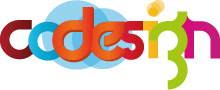 Ghamlouche Jewelry
Ghamlouche Jewelry Designer has been established since 1980. It is one of the leading professionals in their domain in Beirut region. Our team worked on the whole graphic design identity in addition to the uplifting of the Logo. The packages presented by The Codedesign was: Slogan, Logo Uplifting, Packages, Business Card, Product Photo shooting, Website Design Interface, Web development and System development and implementation. The result was a success and the client was very pleased with the result.