Click on color bars to change themes
Click on color bars to change themes

We're codesign
We are a group of people crazy about the web, we design and develop beautiful, creative and user-centered websites. Ohh, almost forgot, we also do graphics, such as logos, brochures, ads, catalogues and so much more!!
We're a young team with shared ideals: to put love in our work, to take risks, and to be part of a studio where everyone has a voice. We are artists, writers, designers, animators, editors, cinematographers, and musicians.
"Everything is designed. Few things are designed well..." - Brian Reed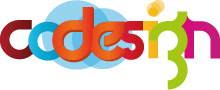 SharePoint 2013: Evolution of an Intranet

SharePoint 2013 has a wide range of "out-of-the-box" features for intranet development. SharePoint gives you new ways to share your work, work with others, organize your projects and teams, and discover people and information read more

Web design user interface and development

Get your full customized package website ready to be viewed by the user. Including the domain name and the hosting.

Interface design / redesign

Sick of your old fashioned website design? We can remodel your website design and support with a brand new design keeping the same functionality used in your old website.

Site Navigation Structuring

A navigation structure is key to planning a website. A navigation structure involves a bit higher level of abstraction than just sketching pages. A navigation flowchart (or sitemap) organizes how you are going to guide visitors through your material.

Informational / Dynamic Pages

Change and update your pages' content by yourself without the use of a development company. Be your own content manager.

E-Commerce Sites

If you're ambitious and want to have your own business in an e-commerce website, The Codedesign is your best choice. We will support you with the best online business website with full security on the payments keeping in mind the beautiful user-friendly design.

Search Engine Optimization: SEO (Baseline implementation only)

Search engine optimization may target different kinds of search, including image search, local search, video search, academic search, etc. As an Internet marketing strategy, SEO considers how search engines work, what people search for, the actual search terms or keywords typed into search engines and which search engines are preferred by their targeted audience.

Chat rooms

Having your own company and want to track and keep in contact with your employees? It's better for you to have your own Professional chat area with your own security rather than using the already found chat rooms used by everybody and with security linked to servers you don't know.

Content Management System

CMS is s a computer application that allows publishing, editing and modifying content, organizing, deleting as well as maintenance from a central interface. Such systems of content management provide procedures to manage workflow in a collaborative environment.
Mobile Applications

As part of the development process, mobile user interface (UI) design is also an essential in the creation of mobile apps. Mobile UI considers constraints & contexts, screen, input and mobility as outlines for design. The user is often the focus of interaction with their device, and the interface entails components of both hardware and software.

Web Applications

Web-based software is software you use over the Internet with a web browser. You don't have to install any CDs, download any software, or worry about upgrades. When you use web-based software you don't have to worry about anything technical — you can just do your work. We handle all the security and uptime and backups and upgrades and "IT guy" stuff. You can stay focused on what you're good at and we'll handle the rest.

Systems

A management system is the framework of processes and procedures used to ensure that an organization can fulfill all tasks required to achieve its objectives. For instance, an environmental management system enables organizations to improve their environmental performance through a process of continuous improvement.

It provides functionality for internal operations such as enterprise resource planning (ERP), inventory control, manufacturing and all of the supply chain activities associated with procuring goods, services and raw materials. If an ERP system includes order entry and customer service capabilities, that system would bridge both back office and front office.
Business Cards

Business cards are cards bearing business information about a company or individual. It is very important how your card is design and what is the paper quality used as it is the first impression handed to your clients or people you meet.

Flyers

Promote your business and work. Have your flyer beautifully designed by The Codedesign. A flyer, also called a circular, or leaflet, is a form of paper advertisement intended for wide distribution and typically posted or distributed in a public place or through the mail.

Sales Presentation: Brochures / Folders

Get your clients know more about what your business is about. Design a brochure and make your business grow. With the functional and well designed advertising piece, which is mainly used to introduce a company or organization and inform about products and/or services to a target audience.

Menu

For your restaurant, design the most attractive and creative menu to present your food and beverages. Make your customers order at once. Get your Restaurant Menu from The Codedesign.

Internal illustrations at a restaurant, company, or Lounge

If your business area looks and seems pale and boring, we, at The Codedesign, can turn your business place into home. We manage to do illustrations on your walls and decorative ideas for your place.

Packaging (food boxes, chocolate boxes, gift bags, shopping bags, etc)

Packaging is one of the very important marketing materials. Items with creative and attractive packaging sell the most. Don't hesitate contact us and we'll make that happen.

Promotional items (stress balls, mugs, calendar, etc)

Sometimes you need your clients to remember that you sound. Have your promotional items and present them on occasions or at events of yours or those you are participating at. By this, the identity of your company will be more seen.

Calendar Design

Calendars are found in all houses and companies, design a presentable calendar and sell it or distribute it.

Posters, Signs and Banners

Because Graphics and short interesting text beats 10,000 words. Design your visual; whether poster, sign, or banner and let it reach all party of people. You reach further.

Postcards: Mailers

Most people don't use postcards anymore. Why not? Be more ecofriendly, design digital postcards and send them to your customers by mail and get higher sales.

Wedding Cards

Invite your friends and family to your wedding with a beautiful and creative customized wedding card. Honestly, wedding cards are boring nowadays; they all look alike.

Invitation Cards

If you have a commencement and need a well structured and designed invitation card. This is what we can do for your. Because invitations cards do matter, design them well.

Print Ads: Banner Ads

Go wild and creative with your advertisements. Banner ads, like most graphics are a key account to new clients.

Media Packaging: DVD / CD-ROM / VHS Cover

Have different CD and VHS cover design and package.

Newsletters

Have your publication distributed. Send one newsletter to different parties at a click of a button.

Newspaper Design

We design the layout of a newspaper and handle it's printing.

Magazine Designs

There are many cheap and awfully designed magazines. Don't let your magazine be one of those; let us design it for you.

Book Covers

Books doe really sell more if thy have an attractive book cover.

Internal book designs with illustrations

We handle the design of a book from A to Z including the inside illustrations.

Patch and T-shirt Design

Along with your promotional items and full identity. Make your employees dress shirts with the name of your company on it. Make people dress your shirt while running in a Marathon, or just design your own shirt and let us do it for you.

Vehicle Decals

Go more professional and use visuals with your logo and contacts on your business cars. Make people see your contacts and your logo even on the streets.

Miscellaneous

It's a leaflet like where it contains several ideas, topics, and graphical visuals.

Illustrations

Graphical cartoon like characters, images, icons, people, decorative designs that can be inserted in any design whether on paper, web, or to creative decorative walls and products.

Corporate Identity (logo design, letterhead envelope, business card, etc)

Your corporate identity is your image. It is the one that everybody sees and reaches all people, if it was appropriately designed. Get your full identity from logo, business card, marketing material, promotional items, and decorative identity from our company with amazing design and price.

Engagement, baby shower or any occasional themes

Because we love designs, we can visually decorate and take care of all your events' themes. We actually come up with the ideas that best suit you and make it happen.

Printing coordination (that is taking out for printing )

We care about our clients, that is why we take care of printing when they ask for. By this, they will make sure that what they want is what they'll get and even better.

Picture retouching

We usually take care of projects from A to Z. If you have a business that replies most on picture marketing, then you've reached the right place. We usually retouch pictures in a very professional way that makes a picture look so real instead of plastic

Photography Services provided upon request

If you don't have appropriate or enough pictures for your projects, we can handle photography projects as well. By this, we will support you a more than full package and make you feel at ease.

Web design

Your website is your identity and it cannot be kept apart from corporate identity and professionalism. This is one of the things we do best. Design websites. Just have it design your way and give us a call to make this happen.

Mobile applications

Since mobile apps are very in the market nowadays we keep track of supporting you with amazing and creative as well as user-friendly mobile apps.

Social Media Marketing (Facebook, Twitter, LinkedIn)

Social media is one of the very important marketing tool in our current life. It's true that everybody can do his/her marketing page, but the thing is that does anybody know how to do it right? That's why we're offering this service for you to make sure that we'll do the right marketing work for you.