Click on color bars to change themes
Click on color bars to change themes

We're codesign
We are a group of people crazy about the web, we design and develop beautiful, creative and user-centered websites. Ohh, almost forgot, we also do graphics, such as logos, brochures, ads, catalogues and so much more!!
We're a young team with shared ideals: to put love in our work, to take risks, and to be part of a studio where everyone has a voice. We are artists, writers, designers, animators, editors, cinematographers, and musicians.
"Everything is designed. Few things are designed well..." - Brian Reed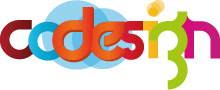 Creative Identity Design
Posted by
Mona A. El-Hinnawi
Design, Packaging, Print Design, Branding
0
Jacu Coffee Roastery
Visual identity / Branding
The Jacu bird lives in South America and is known for something quite extraordinary; It flies from coffee plantation to coffee plantation and picks and eats the tastiest coffee cherries. The fruit makes its way through the bird's digestive system, and the seeds of the fruit - coffee beans - come out perfectly processed. These coffee beans are among the most exclusive in the world. This story has inspired us, and the bird has lent its name to the new micro-roastery in Ålesund, Norway.
JACU COFFEE ROASTERY was established in 2011. Like the jacu bird, they pick and roast only the best beans. They look for great plantations, optimal processing, and the roasting profiles which will make the most out of each bean. They work with passion, patience, and without compromise.